QUINTRONANDMISSPUSSYCAT.COM














LPs, CDs, and VIDEOS listed here in reverse chronological order. Some older titles are for sale so please scroll down.
Any person wishing to order the by normal mail should calculate price and shipping using the forms below and then send check or money order to:

RHINESTONE RECORDS
3052 ST. CLAUDE AVE
NEW ORLEANS, LA 70117
USA




STEVE RILEY AND THE MAMOU PLAYBOYS / QUINTRON AND MISS PUSSYCAT - "CHATTERBOX" / "HATERZ" - The story of this single begins with Lafayette guitarist CC Adcock producing the album "GRAND ISLE" (Grammy Nominated 2012) for Steve Riley and the Mamou Playboys. After witnessing a show at Spellcaster he suggested that Steve and the band cover the Quintron / Pussycat penned song "Chatterbox" for the album. The song is an ode to Kelly Keller (of Circle Bar / Coney Island High fame) and her beloved Cajun country. The Chatterbox is actually a little bar that was briefly invaded by throngs of Kelly's wild rocker friends who had come to wish Kelly a joyous farewell in her hometown of Eunice, Louisiana. RIP Kelly Keller and long live the Chatterbox.
For the B side Q and P decided to cover "Haterz" - a modern Zydeco classic written by the legendary Zydeco Cowboy Keith Frank. Check him out here: KEITH FRANK
"Haterz" has been covered by a few artists in Louisiana including Lil Boosie and our version got a big time blessing from the man himself.
Both sides were originally tracked at the Spellcaster Lodge and were co-produced by CC Adcock and Quintron. "Haterz" was engineered by Mike Napolitano and vocals were done in his home studio down the street from the Spellcaster Lodge.
Side A:
CHATTERBOX
Side B:
HATERZ

9th Ward Marching Band - "Sneakin Up The Street" is SOLD OUT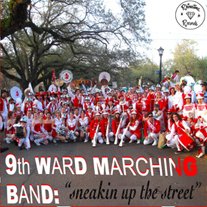 ..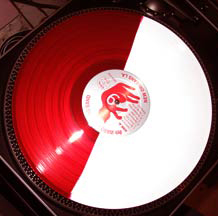 9th Ward Marching Band - "Sneakin' Up The Street" - 14 tracks of full on New Orleans / High School / Military / Freak style marching music. All killer no filler featuring 100 plus members.
Side A was recorded during an actual neighborhood parade at Mardi Gras 2011 and Side B was recorded between 2006 - 2010 at Spellcaster Lodge parade rehearsals.
The music here is all cover songs except the drum cadences. The Halloween / Exorcist theme on glockenspiels is especially creepy! This aint a joke band and it aint scruffles playing dress up. 9th WD MB feature some of the finest musicians in the city and have been around for over 15 years. They march exclusively for their city in Mardi Gras parades...no rock clubs, no world tours, no wicker man, etc....only the streets! This is their first album and is limited to 500 copies. Vinyl is half red and half white. Perfect Christmas gift because it kinda looks like candy and guess what comes right after Christmas?? (Mardi Gras 2012 is Feb 21)
Side A:
DRUM CADENCE #1...BURNIN FOR YOU...CRAZY TRAIN...DRUM CADENCE #2...THE LETTER...HALLOWEEN BEAT...HOUSE OF THE RISING SUN
Side B:
THE BOYS ARE BACK IN TOWN...HERE COME THE GIRLS...LITTLE RED RIDING HOOD...SLOW RIDE...DON'T BRING ME DOWN...PARADE SOUNDS...PAC MAN HOUSE


SUCRE DU SAUVAGE From Januray 29 thru May 2, 2010 Quintron punched a time clock and reported to work at The New Orleans Museum of Art to write and record the album "SUCRE DU SAUVAGE" in a public gallery space. The official title of the entire exhibit, which also included a Drum Buddy retrospective and an enormous puppet display, was "Parallel Universe - Quintron and Miss Pussycat Live In City Park". Quintron's intent behind the museum recording studio was not to entertain visiting museum goers with any kind of performance, but to completely ignore them and go about the business of making this record. When needed, viewers would be pulled into the process and used for backing vocals, hand claps, grunting, etc.

During the final 7 days of recording, Quintron chose to imprison himself within the museum and its surrounding grounds - a beautiful swampy nature preserve called "New Orleans City Park". He would roam the park by night making field recordings and then weave them into the final mixes of the album by day. The week concluded with a blindfolded listening party in the NOMA auditorium (see album cover).

The result of this experiment is a severely schizophrenic dual album. Part one is Quintron writing the way he usually does but with far wider instrumentation. Tympani, vibraphone, whistling, and tape loops join the ranks of Drum Buddy and electric organ. There is also a noticeable increase in the number of chords used per song compared to previous Quintron albums - like from one chord to maybe more than one chord. There are also two dreamy Miss Pussycat tunes entitled "Banana Beat" and "Spirit hair". You can hear noise and field recordings creeping into this first half of "SUCRE DU SAUVAGE", attempting to take over the songs but failing.

In part two the noise and field recordings win the battle hands down as music and structure completely give over to the urge to let all these disparate sounds join hands and run wild. Electronic and acoustic instruments blur together with ducks, insects, birds, water, and even museum elevators until they all become brutal hypnotic madness.

The NOMA sessions produced literally thousands of hours of tape. What you have here is the cream of that crop - the sucre du sauvage. There was no post production or overdubs. When the exhibit closed, the album was finished. It is what it is and it probably aint happening again any time soon.
Side A:
RING THE ALARM...FACE DOWN IN THE GUTTER...NEW YEARS NIGHT...BANANA BEAT
Side B:
SUCRE DU SAUVAGE...KICKED OUT OF ZOLAR X...ALL NIGHT RIGHT OF WAY...SPIRIT HAIR
Side C:
ELEVATOR...DEER IN THE CLOUDS...BELLS
Side D:
TRAIN RIDE...JAZZ BAR...MORNING

Tire Shop is SOLD OUT



KING LEE - "TIRE SHOP" Some of you might know King Lee from his random late night appearances at the Spellcaster Lodge in New Orleans 9th ward. Or you might know him from his backup vocals on the 2006 Quintron slow jam entitled "Dream Captains". Or he might have fixed your tire at the St. Claude Tire Shop. If you are an old school cop, he might have fixed it at Danny's service station way back in the day.

This single is a late night ode to the St. Claude Tire Shop recorded by Quintron and King Lee just blocks away at the Spellcaster Lodge. If you wanna hear the much-talked-about blurry connection between Caribbean rhythms and inner city New Orleans, its all over this incredibly slow drum machine / echo organ jam. All the extra clanky sounds are samples from the actual tire shop that were dropped in the next day. Lee's vocal is just him going off on all his friends and relatives who work at the shop. The list of nicknames is impressive to say the least. So impressive that the song can't be contained on one side! The original take was about 15 minutes and it got edited down to the essential 3 min 30 seconds per side. This 45 is truly the sound of the streets without drama and gunfire - a tire shop army of love and beer and tires and air compressors and echo and organs and tires!
Side A:
TIRE SHOPT PART 1
Side B:
TIRE SHOP PART 2


TOO THIRSTY 4 LOVE was recorded at the Spellecaster Lodge and was deemed too "Lo-Fi" to merit review by almost any reputable website or print magazine!! Recorded with the same stuff in the same room as Jamskate and Swamp-Tech only syrupyier and faster and hotter. So if you can handle those other dangerous discs then you might get through this one without passing out. Although their southern paths have crossed many many times, this is the first time Quintron and Goner have hooked up for an official release. Its about fucking time.
Side A:
TOO THIRSTY 4 LOVE...WATERFALL...WALK TO THE HARVEST...THE BOSS WANTS TO PARTY WITH YOU...DIRTBAG FEVER
Side B:
SUNDAY NIGHT...REBORN...GREY GHOST...FREEDOM...FINAL CONFLICT...MODEL EX CITIZEN

TRIXIE AND THE TREE TRUNKS is an enchanting, luminouse, ten episode puppet mini-series created by Miss Pussycat and Quintron. Includes an appearances by Guitar Lightning, King Louie, and Quintron and Miss Pussycat- and writer Andrei Codrescu as the voice of the puppet "JJ Suede"- as well as witches, messages from the Center of the Earth, things frozen in blocks of ice, harvest fest, and the Happy Tree. DVD includes special bonus features "the making of" (made for Dutch Televison), and "Witch in the Bloopers". Main program (not including bonuses) is 44.33 minutes long. The first 100 orders will recieve a signed 11X17 inch color poster of Trixie and the Treetrunks !

Jamskate IS SOLD OUT



JAMSKATE is a 5 song 12 inch ep dominated by two versions of the mysterious swirling skate anthem, "JAMSKATE". This song has a cajun melody and a perfect skate tempo of 129 BPM. Drug problem is a classic song from New Orleans hardcore legends KAJUN SS - a band fronted by the legendary fucked up songwriter King Louie. Wild West is about post K Bourbon St. and how the orange vest is the new cowboy hat. The skit at the end is some rambling fantasy.
This is the first true Rhinestone release (not owned or administered by someone else) and the first one available for download through this site. Only $10 for the vinyl EP or $5 for the dowload
Vinyl is limited to 500 copies - hand assembled covers, blah dee blah blah blah.
Side A:
JAMSKATE...JAMSKATE INSTRUMENTAL
Side B:
DRUG PROBLEM (by Kajun SS)...WILD WEST...MOBILE FLOAT SKIT

SWAMP TECH is a double disc CD/DVD set (LP version does not include DVD) released by TIGERBEAT 6 in the USA and TRANSSOLAR in Europe. Its a whole new genre of music - "Swamp Tech".....like rock and roll, but more swampy and techy.....more DJ assaulty and the Cajun Prancerish. This is simultaneously the most distinct and the rawest Quintron record yet. The recording quality is pristine, but this was recorded totally live in the Spellcaster with an ancient Todd Rundgren board and no multi track machine. listen to WITCH IN THE CLUB now or go to the jukebox. The DVD is a full 30 minute mini-movie with an all puppet cast. Cinnamon the Alligator and Lolly Crawfish elist the Help of their friends to save the Swamp from mischevious termites. Ernie and Antoinette K-Doe make appearences in Puppet form and O'Neil (R.I.P) from the Saturn Bar is the voice of a Pirate. Q and P are the only Humans here and appear in a dream sequence performing the song "Dream Captains". This release has really distilled everything you could ever want from Quintron and Miss Pussycat, except maybe having them play at your house - see booking page.
Side A:
SHOP LIFTER...FLY LIKE A RAT...SWAMP BUGGY BADDASS...WITCH IN THE CLUB...
Side B:
TEA TIME...FRENCH QUARTER FAGGOT...GOD OF THUNDER...CHATTERBOX...DREAM CAPTAINS...LOVE IS LIKE A BLOB
See Video Clips

THE FROG TAPE is Quintron's version of a trashy Wallgreens Halloween sound
effects record. The first half is all weird organ and electronics instrumentals
and Side 2 is a straight field recording of New Orleans
area Frogs.
Feature song is Quintron's demonstration of his new backwards playing technique
where he expertly uses volume pedal and keyboard attack to give the illusion
that the sound coming from the organ is being played BACKWARDS
By far the weirdest Quintron release yet.
Side A:
HORROR...THE THROAT...MOOD...STRAY CAT STRUT...BACKWARDS...BRIDE OF FRANKENSTEIN...SCARY OFFICE...NO LOVE
Side B:
FROGS

Organ Solo is SOLD OUT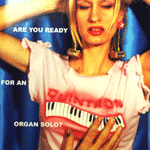 ARE YOU READY FOR AN ORGAN SOLO? is sold out through our site, but you can get it through theThree One G label or order it from your local store. This record was engineered and produced by Tim Kerr in Austin, TX and is the slickest and most studio sounding of all QUINTRON releases. This record was not intended to capture anything live, but rather to be a great DJ record - its all in tune, the drum machine is loud and dry, and all the parts are totally clear......it sounds good in a club. This one also features vocals by Miss Pussycat on several songs ("Cave formations" is all her and Drum Buddy~!) as well as a guest appearance by MC Trachiotomy on "I'm not busy". The LP version is a full color picture disc with almost nude photo of Quintron on side B and Miss Pussycat sexy photo on Side A. This is the sexy album if you like that kind of stuff.
Side A:
PLACE UNKNOWN...MUDBUGS...TEENAGE ANTOINETTE...MINIATURE BREAKDOWN
Side B:
I'M NOT BUSY...CAVE FORMATION...THE BEACH...UNDERWATER DANCE CLUB...ORGAN SOLO
Unmasked is SOLD OUT



UNMASKED ORGAN LIGHT YEAR OF INFINITY MAN (FUCK EVERYBODY ELSE) is a really long title for a record and the thank you list actually holds the Guiness record for the longest thank you list for and American full length music release. This was originally released by Bulb Records. Currently sold out everywhere, but usually some guy in Michigan always has a new copy on Ebay. Soon to be on sale here so keep checking. This is the album that would have made Q and P ga-billionaires if it didn't sound like utter crap. "Brilliant songs heard from outside the walls of the club because you are too young to get in" type production. Many people swear by this one as the definitive lo-fi Quintron experience. Songs about Hurricanes, marching bands, GQ magazine, math class, broken cars, and more!
Side A:
RHINESTONE COMMERCIAL...MYSTERIOUS RANGERS...WHITE MAN STYLE...9-4-9...HURRICANE
Side B:
PUSH, PULL, OR DRAG...CERTAIN GIRL...GQ 21...YOU DON'T OWN ME...PETER PAN...LATIN #...SLUMBER PARTY
Drum Buddy Demo (Vol. 1) is SOLD OUT



THE DRUM BUDDY DEMO LP (VOL. 1) is just what it sounds like.....a step by step introduction to Quintron's DRUM BUDDY invention. The underlying purpose of this record, however was to create a piece of battle wax for the current wave of vinyl scratch DJs. This an entire record of short Drum Buddy performances as well as lots of Quintron voice-overs on the subject of analog electronics and about the workings of this invention. There are also a few full length scratch demonstrations which could be considered songs. This record is NOT intended as a joke and neither is the DRUM BUDDY and should be of interest to fans of analog synthesizers, or collectors of unique records. A long summation of Quintron's philosophy on electronic music fills the entire back cover of this release. Sold out here for now - sorry. This was originally released by Skingraft / Rhinestone. Those of you living in Chicago might recognize the "Drum Buddy theme" from its use in a local commercial for the American Science Center.
Side A:
THEME...INTRO...KICK...SNARE...SPACE...RIDE / LOW BASS...SCRATCH...ROCK BEAT...LATIN...RIDE / BPM SYNC...SIDE BEATS...POP-A-WHEELIE (INST.)
Side B:
COPTERS (scratch demo.)...YOU CAN DO IT...TRACHIOTOMY...VIOLIN...CAR...EUROSIREN...BONGOS...CRICKETS...BAGPIPES...FLOCK OF WITCHES...GREIG ("In the Hall of the Mountain King")...NOISE...THEME
North Pole Nutrias is SOLD OUT



NORTH POLE NUTRIAS is MIss Pussycat's 30 minute Louisiana puppet Christmas special
about two nutria rats who go to the north pole for Santa's help.
It seems that a mean virus (voiced by Harry Lee) is eating all of the toys
so on Santa's recommendation they turn to Quintron's DRUM BUDDY and
some very special pies to save the day.
Includes performances by Quintron, MIss Pussycat, Glitter and Gold, Al
the crawfish King) Scramuza, Sheriff Harry Lee, and much more!........
More about North Pole Nutrias
The Drum Buddy Show is SOLD OUT



THE DRUM BUDDY SHOW is Quintron's self produced infomercial for the Drum Buddy - a five
oscillator, light activated, mechanically rotating drum machine. This video is both funny and
real. You will not be able to take your eyes off of annoying hosts BOB GLOBAL (Eric Pierson
of "Imagine the Band") and REBECCA SIMS (of "Bebe & Serge").
Taped live in front of a studio audience at the Spellcaster Lodge, this classic TV infomercial
takes you from the classroom of a local high school to the stage of a late night rave.
The show features live performances by MC Trachiotomy,
Ernie K-Doe, Quintron, and Miss Pussycat's puppets.......

THESE HANDS OF MINE is considered to be Quintron's breakthrough release where all of the rock, electronic experiments, and noise finally took a trip to dance class. Recorded in Memphis by the same engineer and in the same studio as THE OBLIVIONS PLAY NINE SONGS WITH QUINTRON, this album sounds GREAT! Guest backing vocals by tons of people here including a few Oblivions, most of the DETONATIONS, and Pete Larson (Mr. Velocity Hopkins) of BULB RECORDS / 25 SUAVES. There are stories about the recording of this album which cannot ever be repeated. A young girl almost lost her life and a young man almost went to jail for murder. Still in print, but only on CD here today. Originally released on SKINGRAFT RECORDS Back cover features photos of Quintron with Jerry Lee Lewis and of Miss P in her humanette device.
Side A:
SOUND OF A TRAIN...MEET ME AT THE CLUBHOUSE...DUNGEON MASTER...ITS MOVING ME...WILD INDIANS...DRUM BUDDY
Side B:
GRANDFATHER TIME...MZ EXOTIC WLD...CAVEMAN 5000...THE CREEPER...JEALOUSY

THE ANIMAL'S CLUBHOUSE is Miss Pussycat's second all puppet soundtrack record and it is as brilliant as the first Flossie and the Unicorns record! More stories about animals starting record labels, ghosts in the tv set, and giant bees who sing songs to make honey. If you must associate with children, then you might want to hurry up and get them into this before something bad happens to their brains. If you have seen Q and P live and you love the electronic soundtracks for the puppet shows then this is for you! By the way, many assume that Quintron makes all of the sound and Miss P only does the puppetry......BULLSHIT! This could only come from the mind of a Pussycat. She does most of this with analog tape manipulation, a MOOG Rogue, and a huge arsenal of little toys and keyboards. Originally released on Skingraft / Rhinestone. Sorry, but this is sold out here. Check SKINGRAFT RECORDS to mail order. It is little known that Jon Peel was a big Flossie fan and that the Queen's song from "Bee's Secret Formula" was recorded in London as a Peel Session!
Side A:
THE BEE'S SECRET FORMULA...GHOST TV
Side B:
MAGIC CRYSTAL RECORDS...THE ANIMAL'S CLUBHOUSE

Satan Is Dead is SOLD OUT



SATAN IS DEAD is the first Quintron venture into drum machines. Recorded in the dead heat of New Orleans August by a mysterious local engineer named Clint Montz, this record is notable also for the very first appearance of the DRUM BUDDY! You can see in the picture on the back that it was still in its crazy prototype form here with the ladies hairdryer thing over the top and the flexible gas line hoses holding the light sensors. This album is equal parts noise and rock and roll with great songs that are still in the live show like "Do the Stomp", and "9th WD. Breakdown" - an ode to crazy girls in the 9th ward neighborhood. The title "SATAN IS DEAD" is probably a reaction to the uber serious noise / no wave scene that Quintron fled when he left Chicago and returned to the southern states. Good luck finding this one. This was originally released on BULB and was the last of Quintron's "letterpress" covers. This has been out of print forever and there are no plans to re-issue although the title is technically owned by the Rhinestone label now....maybe someday.
Side A:
BASS SOLO...DO THE STOMP...ROAD HOG...THE BRIDGE...GUITAR SOLO...ORGAN SLOLO
Side B:
A HYMN...9th WD BREAKDOWN...NONSTOP DANGER...DRUM SOLO
Flossie And the Unicorns is SOLD OUT



FLOSSIE AND THE UNICORNS is Miss Pussycat's first puppet record - released by the Hanson record label (Wolf Eyes) out of Brighton Michigan. The sounds on this LP-only release are arranged as a sparkling basket of music, stories, and sound effects from Flossie and her friends. For those unfamiliar with the History, Flossie and the Unicorns were the first puppet band created by Miss P and at some point they retired into the center of the earth to do endless self indulgent guitar solos. The band consisted of a big blob guitar player named Princess Pandora Stardust, Snicklefritz the guitar playing turtle, and Flossie - the lead vocalist with a cute little voice and one big eye. Don Bolles (Germs drummer) plays a big role in the first story in which the girls are on the hunt for Hawkwind's adress! This is as rare as they come....300 pressed, silkscreened cover, no CDs, and each one came with a little electronic music device which played a secret song. As a promotional gimmick to sell this strange album, Miss P and Hansen Records organized a contest in which whoever got the record with the device that played "Happy Birthday" won a real electric guitar!! Ah....those were the days. This is sold out everywhere.......for now.
Side A:
OH WON'T YOU BE OUR HOUSEGUEST...FLOSSIE AND THE UNICORNS
Side B:
DOUBLE AGENT SUNBEAM...MUSICAL MAKEUP...FRENCH GUNFIGHT...PUSSYCATS TAKE A LITTLE NAP
The Amazing Spellcaster is SOLD OUT



THE AMAZING SPELLCASTER (Live from the Pussycat Caverns) marks Quintron's first organ record and features an amazing spraypaint / letterpress cover. The music is all organ instrumentals, each one designed to evoke a particular mood - "festive", "crazy", "ominous", etc...Its a concept record and doesn't really have any of the rockin dance party stuff that his later records are know for, but it is interesting nonetheless and good for a dinner party. Definitely a must-have for any organ record fan. By the way, the organ used on this record was a mighty Gulbranson Transistor Model E - much more reverbed out and churchy sounding than the tough distorted Hammond / Leslie used on later records. Originally released by BULB but now owned by Rhinestone. This too is out of print but may be re-issued by Rhinestone in the future.
Side A:
MAGICIAN VS. THE AMAZING SPELLCASTER...OMINOUS 1...CHURCH...CRAZY...ROCKIN' CHA...BIRDS
Side B:
FESTIVE...OMINOUS 2...JUNGLE...NURSERY...FROGS...CLUB
Internal Feedback is SOLD OUT



INTERNAL FEEDBACK 001-011 is the first ever Quintron record and it is like none of the others. This is the one to put on to prove to your friends that you hate normal music or to make your mom think that you might need to go see a "feelings doctor".....just to talk. All drums and horrible noise. Actually if you get past the abrasive qualities on INTERNAL FEEDBACK, the percussion can be quite symphonic. Many people don't know that Quintron started out as a highly trained military / concert snare drummer. You can hear classical dynamics and technique all over this. This album was also the only Quintron release to have been recorded in Chicago. The LP version features a stark black and white letterpress cover. Not for everyone. Originally released by BULB.
Side A:
HUB THEATER...MZ DUSHANE...WHITE DEVIL...SOUND OF A TRAIN PASSING...FEVER...I.F.
Side B:
TAKE OFF THE WET SUITS...M*CODE...F.B.I.A....MICRO CASSETTE ABDUCT...Fe MAN