9th WARD MARCHING BAND - 2011 PARADE SCHEDULE

Fri, Mar 4th - Krewe De E'tat - 6:30 pm roll time, uptown route beginning @ Jefferson and Magazine.
Sat, Mar 5th - Spellcaster to MiMi's - 2pm (roll time subject to change) exact route secret until roll time
Mon, Mar 7th - Krewe of Proteus - 5:15 roll time, uptown route
BLACK LIPS (featuring home boy Ian St. Pee) will be celebrity Grand Marshalls for our Proteus Parade.
(click on image below to view video of our 2009 MUSES parade)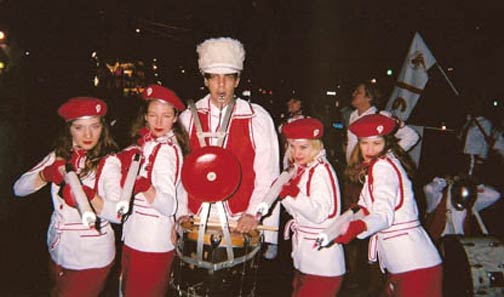 HISTORY AND 2011 NEWS

The 9th Ward Marching Band are a local high school/military style band who can be witnessed only during New Orleans Carnival season. The band was originally started by a group of friends living and playing in the 9th ward music scene including organist / inventor Mr. Quintron, Miss Pussycat, Elizabeth Macey, Judy Bolton, Jon Henry Kelly (Detonations), Lefty Parker (part owner of the Circle Bar), Strangebone (inventor of the Organ Car), Julien Fried (The Black Dwarf), MC Trachiotomy, Matt Vis (Kid Calculator), Jamie Kallel (Sex Hunter), and many more. Quintron directs the drum corps and takes the role of drum major and Eric Belleto directs and charts the horn section. The 9th Ward Marching Band's colors are red, white, and silver. The original uniform designer and inventor of the now famous one-eyed cat with a "9" band logo is Heather Sher. This year's uniforms were overseen by Jessica Bizer.

After the first few years, The 9th Ward Marching Band hooked up with a bunch of horn players from local jazz band EGG YOLK JUBILEE. These guys - most of whom played together at Rummel high school - brought serious brass chops and marching discipline to the group. Now, years later the 9th ward Marching band is a well oiled 150 plus member machine who have developed a style to be reckoned with.

The 9th Ward Marching Band sections include: Drums, Brass, Glockenspiels, Cymbal Core, Rifle Girls, Cheerleaders, Batons, Flags, Cowgirls, Spirit Sticks, Dance Squad, and "team gong".

Here is an example of songs played thru the years: "Love is Like Oxygen" by the Sweet, "Rock You Like a Hurricane" by the Scorpions, and "House of the Rising Sun" by the Animals, "Little Red Riding Hood" by Sam the Sham and the Pharoahs, "The Boys are Back in Town" by Thin Lizzy and many many more.

This year's songs will be "Burnin For You" by Blue Oyster Cult, "Crazy Train" by Ozzy, "House of the RIsing Sun" by Eric Burden and the Animals, and "The Letter" by Alex Chilton and The Box Tops. We love you Alex!

Though based on a traditional high school / military style of parading, the 9th Ward Marching Band have added many touches of their own which distinguish them from any marching band you will ever see. One example is the band's use of a giant gong in their musical arrangements. The gong is carried on a huge yoke by two gong bearers and is only struck a few times throughout an entire parade.
BELOW ARE PHOTOS FROM PAST YEARS...CLICK ON ANY THUMB TO OPEN HI-RES VERSION


THE CHEER LEADERS. This year they will be coached by a real Saintsation! Her name is Brandi. Thank you Brandi!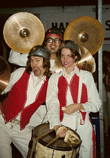 THE CYMBAL CORE. Lefty (with glasses) is the leader. He is a very good leader. Thank you Lefty!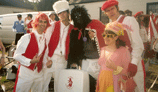 9th WARD GORRILLA. Nobody knows the identity of this mysterious reveler but he certainly did love the 9th Ward Marching band. Thank you Gorilla man! The girl in the orange in front is Ann Marie Coviello...supreme mistress of Box of Wine and an instrumental part of getting the 9th Ward marching band onto St. Charles Avenue. Thank you Ann Marie!


The flags look very different now from this old picture. They are like silver camel Ninjas now! Thank you Karen!!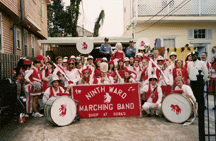 This is the whole gosh darned band! (except for the elusive Strangebone) Notice our official security sqad in the back. Thank you Mardi-Gras!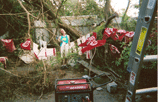 WASHING THE UNIFORMS. This is Miss Pussycat caring for the band uniforms just days after Katrina. All of the uniforms and many band instruments were flooded at the lodge. By a miracle Miss P was able to save most of the outfits. Thank you Miss Pussycat!


THE HORN PLAYERS. We would sound like a terrible drum jam without these musical geniuses! Eric from Egg Yolk Jubilee (drinking a beer) is in charge of all horn arrangements. Thank you Eric!


THE PRINCESS. Our Princess is from Chalmette and her name is Michelle. Her Grandmother helped to make this incredible outfit. The 1st official parade for the 9th ward marching band was in Chalmette as part of the Krewe of Shangrila. Thank you Chalmette!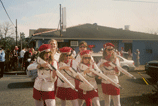 THE GUN GIRLS. These are our gun girls. They can twirl and they can march and they can also help the band with their rhythm by baking cookies. Thank you Judy!

STRANGEBONE AT THE ORGAN CAR. The Organ Car is our guiding light. Our beacon to lead us through the foggy nights. For reasons unexplained this photo cannot be linked to a hi-res version. Thank you Jeff!